What do people think of Bitches on Comics? Well, let's see…
Press
We are very pleased to have received some very nice reviews from a variety of publications.
"It is a dated stereotype to assume that comics are just for boys. After years of hypermasculine heroes and oversexualized heroines, sexist attitudes are changing, and a podcast like Bitches On Comics represents this change."

– Screen Rant
"10 BEST COMIC BOOK PODCASTS"
"I've been a comic book fan for years and I still learn new things from them! [Bitches on Comics] is possibly the most inclusive and welcoming group out there…And if you're a fan of Poison Ivy, then this is now your new home."

– Book Riot
"11 OF THE BEST COMIC BOOK PODCASTS"
"Bitches on Comics will crack your skull open…Century and Fleenor are here for the art, and their debates will make anyone a champion for these books and characters."

– Comic Book Couples Counseling
"BEST COMIC BOOK PODCASTS 2021"
"Extremely intelligent and entertaining discussion of all things comics, and diverse opinions and perspectives that are often lacking in coverage."

– Comic Book Herald
"Best Comic Book Podcasts 2021"
"[They] looked specifically at Pride Month, referencing how frustrating it can be watching corporations make money off the LGBTQ community without any commitment to those communities or without monetarily supporting them. In that, they prioritized uplifting writers who faced rejection from other publications, giving them a chance to build a foundation, and a business model ensuring they could pay writers fair wages."

– Out Front Magazine
"'BITCHES ON COMICS', 'DECODED' UPLIFT QUEER SCI-FI, FANTASY, HORROR STORIES"
"In the anthology and their podcast, Century and Fleenor are doing a great job of centering queer voices and perspectives in a way that is exciting to see."

– Smash Pages
"Smash Pages Q&A: Sara Century and S.E. Fleenor"
"The duo's conversational style is delightfully nerdy, and each episode dives deep into topics like color palettes, gatekeeping, libraries, the gayness of X-Men, and tropes they wish would go away … Even when discussing the more troublesome aspects of comic book culture, the joy of their fandom always shines through."

– Out Front Magazine
"Bitches on Comics Podcast: Q&A with the Creators"
---
Reviews from real listeners
OK, but what do listeners have to say?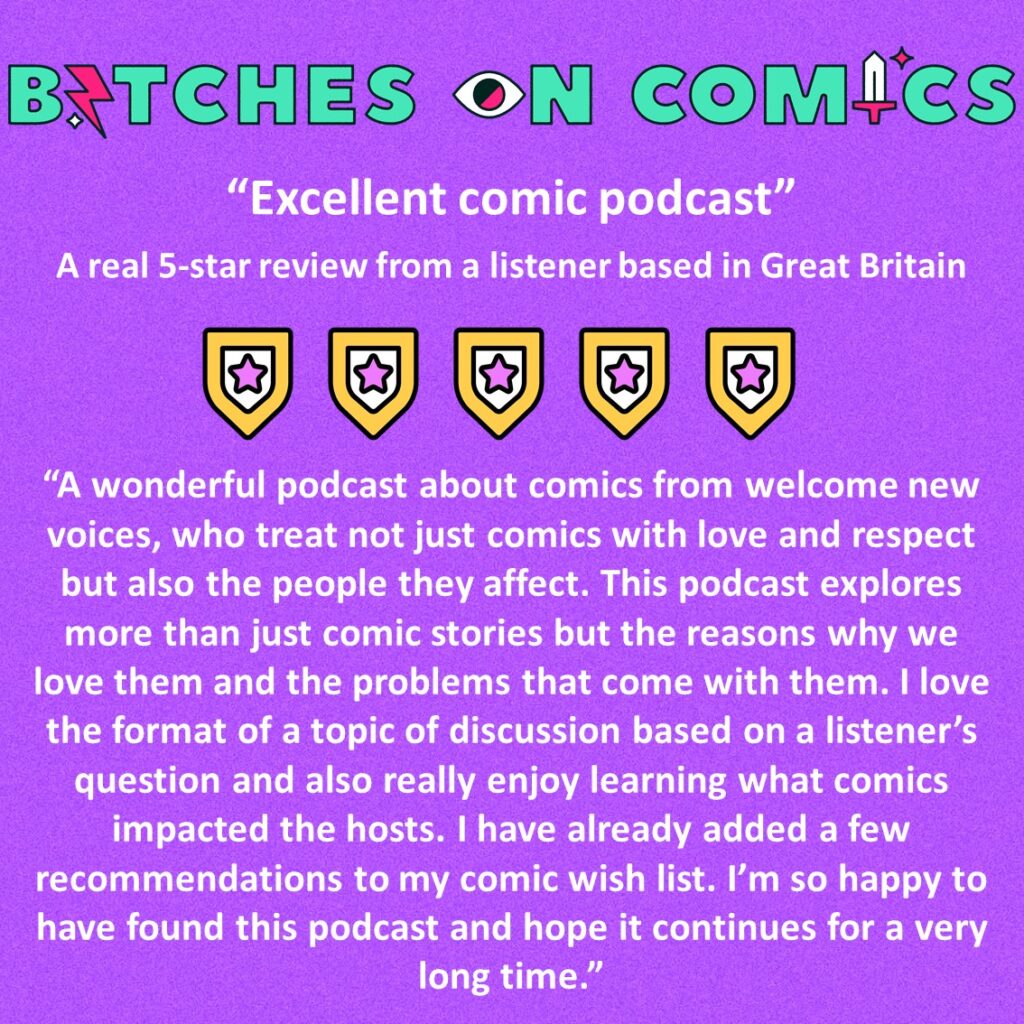 Show us some love by giving us a 5-star Review on Apple Podcasts, Spotify, PodChaser, or wherever you get your podcasts.