We're Bitches on Comics and we're creating a podcast to make comics more welcoming and friendly, particularly for LGBTQ folks and women readers. Bitches wanted.

Co-hosted by Sara Century and S.E. Fleenor with sound editing by Kate Warner, Bitches on Comics is an advice podcast that answers listener questions, as well as hosting regular interviews with LGBTQ+ folks and women comic and fiction creators and critics.
We've interviewed the likes of Rachel Pollack (Doom Patrol, Unquenchable Fire, Tarot for Magical Times), Stephanie Williams (Marvel, Living Heroes, But What If Though), MariNaomi (Life on Earth trilogy, Turning Japanese), Gabby Rivera (Marvel's America, Juliet Takes a Breath, b.b. free), Emma Veronique Houxbois (Transcription, Comicosity writer), the good folks of WWAC (Women Write About Comics), Amy Chu (Poison Ivy: Cycle of Life an Death, Green Lantern), Ria Brodell (Butch Heroes), Anthony Oliveira (Marvel's Lords of Empyre: Emperor Hulkling), Bianca Xunise (Six Chix), Aiden Thomas (NYT Bestseller Cemetery Boys), Tina Horn (SFSX, host of Why Are People Into That?), and many others. Our conversations invariably entertain, educate, and delight as we talk to the people who make and/or critique some of our favorite queer and feminist comics and fiction.
Examples of questions include:
How do I choose a comic book store and what can I expect?
What ever happened to Jubilee?
How do the Steven Universe comics fit into the series?
Which queer indie comics should I read?
What are the best Jean Grey stories?
What do I need to know about going to my first Con?
Our whole goal is to include more folks in the comic book world and to help newer readers find comics they'll love–with no shade for being new.

You can support our podcast by becoming our Patron on Patreon. We welcome support at a variety of levels–from $2 to $20 a month. Learn more about our Patreon and how it helps us continue our work at: https://bitchesoncomics.com/support-us-on-patreon/
We Are…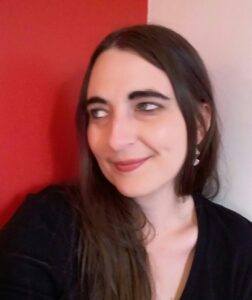 Sara Century (she/her) is an artist, writer, and filmmaker who is obsessed with most things. She is good at speaking in public, working for most hours of her waking life, and saying quotable things in casual conversation.

You can find Sara's webcomic with Tana Thornock at http://www.thevolatileanesthetic.com
Learn more about Sara at: saracentury.com or on Twitter @saracentury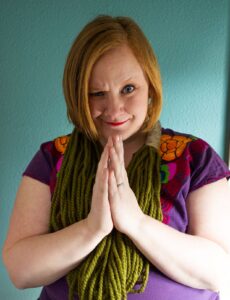 S.E. Fleenor (they/them) writes novels, creative non-fiction, and articles centering on feminism, queer identities, pop culture, and literature. Their writing has appeared in Vice, Electric Literature, them.us, Upworthy, The Muse, and Class Lives: Stories from Across the Economic Divide. They regularly write for SYFY WIRE's feminist vertical, FANGRRLS, and Daily Xtra. Feisty, sometimes angry, sometimes funny, but always bringing realness, S.E. is ecstatic to share their love of comics with audiences that have historically been excluded, particularly LGBTQ folks and women readers.

Learn more about S.E. at: sefleenor.com or on Twitter @se_fleenor
Kate Warner (she/her/they/them) is a music producer, performer, A/V technician and sound engineer. She is addicted to Star Trek and video games, and fixes electronic things sometimes.
You can listen to their solo project Mirror Fears at https://mirrorfears.bandcamp.com/ or the band they currently perform with, church fire, at https://churchfire.bandcamp.com/
Find Kate on Twitter @soundbs4u
Theme music is written and recorded by Katy Taylor, who plays as Earth Control Pill. You can listen to more at https://earthcontrolpill.bandcamp.com/
Branding and logo design by Emma Mallinen https://emmamallinen.com/