Each year for Pride, we talk to some of the coolest people in comics and graphic novels about the stories they're telling, queer and trans identities on and behind the page and screen, and why speculative fiction is so damn queer and trans.
In 2022, we have the following episodes for Pride month:
Listen wherever you listen to your podcasts or at the links above!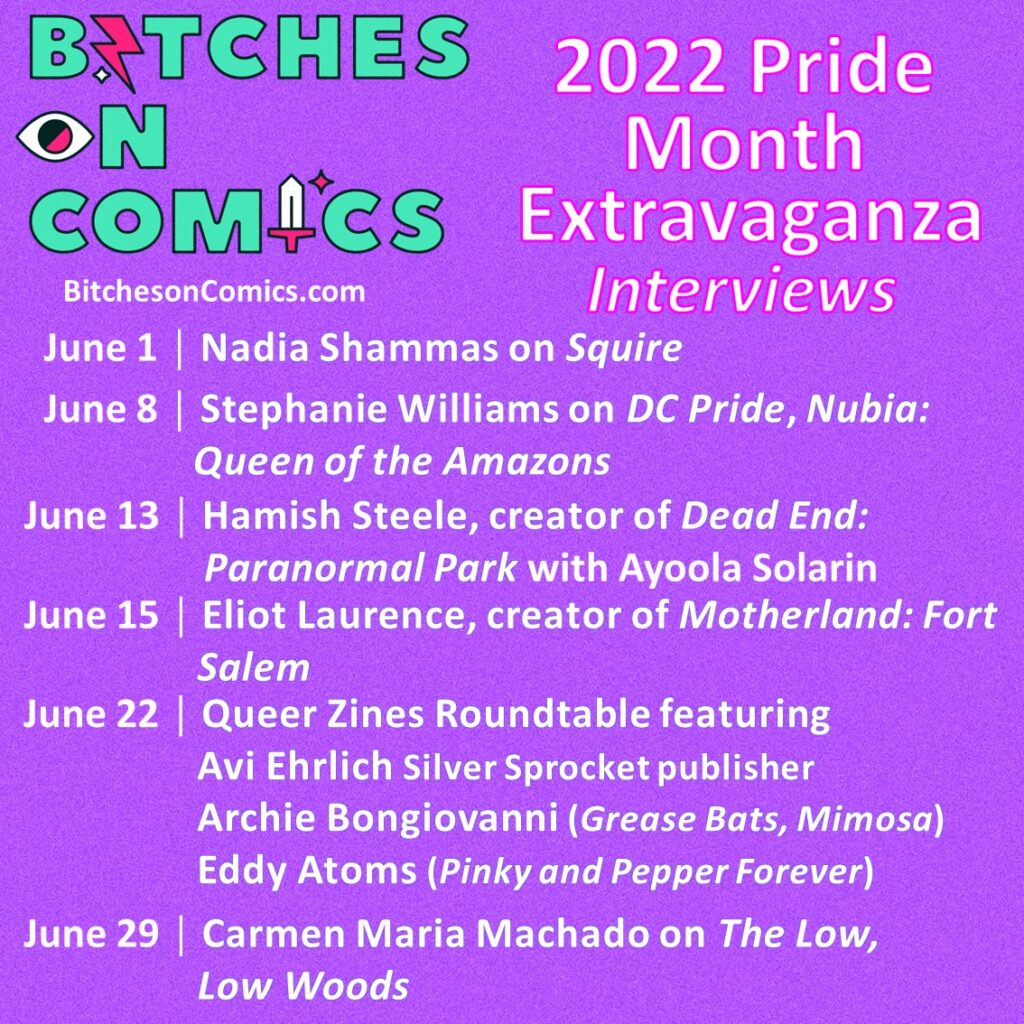 Prior Year's Pride Extravaganza Episodes
Pride 2021
Episode 91: A stealth multiverse, an interview with R.B. Lemberg, author of The Four Profound Weaves
Episode 92: Unabashedly queer action comedy featuring Ben Kahn and Rachel Silverstein, creators of Renegade Rule
Episode 93: The infinite possibility of gender featuring Bishakh Som, creator of Apsara Engine and Spellbound
Episode 94: Black stories across decades featuring Craig, film, TV, and comic critic on Far Sector, Abbott, Lovecraft Country, and HBO's Watchmen
Episode 95: Seems pretty gay to me featuring Yoshi Yoshitani, creator of Tarot of the Divine, artist I Am Not Starfire
Episode 96: All Latinx, all queer featuring Stan Stanley, creator The Hazards of Love
Episode 97: So many queer characters featuring Sophie Campbell, Teenage Mutant Ninja Turtles, Wet Moon, Glory
Episode 98: A lot of big queer feelings featuring Trung Le Nguyen, creator of Magic Fish
Episode 99: Centered on queer, Brown people featuring Vita Ayala, New Mutants, Children of the Atom, The Wilds, and Livewire, with Stephanie Williams, Nubia and the Amazons, DC Pride
Pride 2020
Episode 40.0: Tell queer stories, an interview with Anthony Oliveira, War of the Realms writer.
Episode 41.0: These people matter! an interview with MariNaomi, indie comic veteran and creator of the Life on Earth series.
Episode 41.5: The genesis of so much, an interview with Leah McKendrick and Mariah Owen, creators of the 2020 Poison Ivy fan film Pamela and Ivy.
BONUS: Every part is really good, a review of The Young Avengers (available for free on our Patreon)
Episode 42.0: I agree that I'm right, an interview with Chingy Nea about sex workers in comics
BONUS: A source of power, a review of queer comics anthologies We're Still Here, Gay Genius, Love is Love, and Rainbow Reflections (available for free on our Patreon)
Episode 43.0: The energy of all comics, an interview with Gabby Rivera, author of Marvel's America, Juliet Takes a Breath, and b.b. free
Episode 47.0: That would be impolitic, an interview with Judith Slays, aka Emma Veronique Houxbois, drag star and trans sexuality educator